5000 years ago the first agrarian societies started to form throughout the world and for thousands of years, rural agricultural societies have been the dominant way of life for the majority of the world's population. This century for the first time in human history more people are living in urban settings compared to rural areas. Agriculture has faced growing demands from this rapidly growing urban population. Growing more food requires more energy, land and water creating a demand for commercialized food production. Urbanization along with population growth, higher living standards, global water stress and climate change, have resulted in an ever-increasing requirement for an agricultural transformation in countries throughout Africa in order to achieve food and nutritional security.

The Agricultural Innovation and Technology Centers - AITeC Farms are a groundbreaking concept that targets The Sustainable Development Goal to "End hunger, achieve food security and improved nutrition and promote sustainable agriculture" (SDG2) by improving agricultural production, productivity and efficiency through demonstration, capacity building and research that creates bridges to Israel's advanced agricultural ecosystem and wealth of knowledge.
The agricultural transformation requires adaptation of expertise, technologies, access to finance, access to agricultural inputs and changes in the market structure of the agricultural sector. The transformation must also be accompanied by a human component, where a new generation of local agronomists, engineers and experts must take on the role of enabling an innovative agricultural sector. 
There is a need for passionate, knowledgeable local professionals to build knowledge and develop solutions to challenges faced by farmers and to the sector at large. Young professional, agricultural entrepreneurs, need to commercialize the sector, ensuring farmers are profiting and developing successful businesses throughout the value chain. The notion of working in agriculture must be transformed from that of a low-skilled job to that of skilled professionals, the building blocks of a successful innovative agricultural economy.
To optimize this transformation, it is imperative that Israel's innovative and advanced expertise, technology and 'know-how' be implemented, shared and taught to build the 'agricultural knowledge infrastructure' and to ensure self-sustainability.
The Agricultural Innovation and Technology Centers operate as a central mechanism for agricultural development. The AITEC is a medium sided farm that enables regional access to improved agricultural inputs, mechanization, supply chains, access to knowledge and has impacts on value chains. The AITEC is composed of several components that are integrated into a holistic program for regional transformation.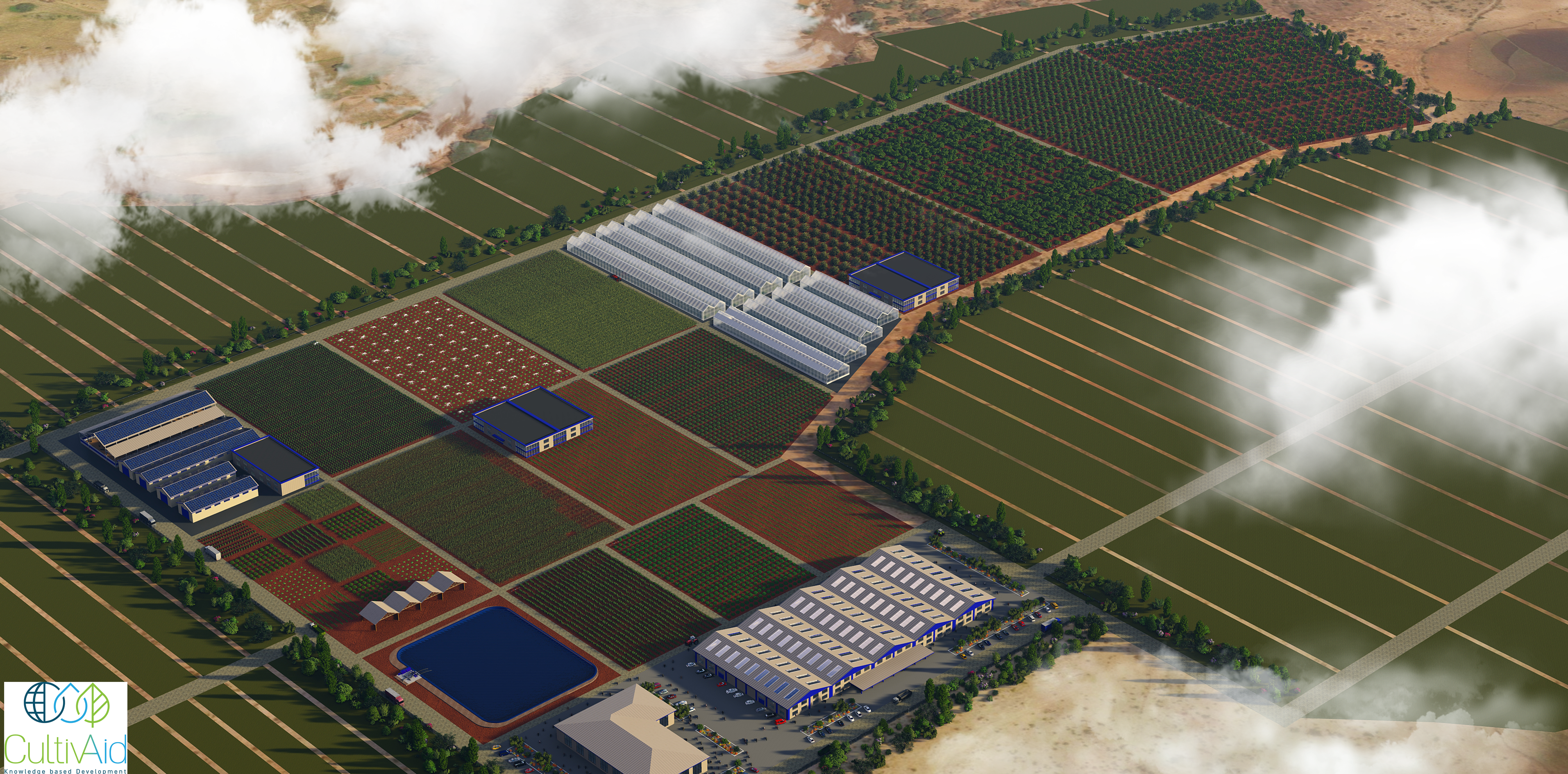 The Training, Demonstration and Research (TDR) site is a 1-2 hectare plot equipped with drip irrigation, sprinklers, protected agriculture, and utilizes advanced agro-techniques to demonstrate technologies and knowledge. The site demonstrates different crops, inputs, techniques and innovations as a method of introducing them to the region. The TDR facilitates trainings and educational programs for the development of the regional agricultural knowledge infrastructure.  
The ATIEC Farm model includes a Medium Scale Market Oriented Commercial Farm that aims to generate the highest potential profitability while producing nutritious crops. The farm's subcomponents include vegetable and fruit production, protected agriculture, a seedling nursery and post-harvest collection. Livestock units are also implemented through the Farm. The farm's revenues are utilized for supporting the operational, educational and logistical activities of the AITEC. The farm serves as a model medium scale farms, demonstrating proper planning and introducing new technologies and agro-techniques. 
 The AITeC Training programs are built on an integrated curriculum which focuses on 4 main pillars:
Basic and applied Science education
Specific agricultural topics will be a focus of the program to introduce students to both practical and technological advanced systems.
Learning by doing through on-site field activities at the TDR site.
Agricultural business and entrepreneurial skills.
ATIEC Extension Services provide outreach to farmers in the region.  Through well trained extension agents, farmers are provide  access to professional support who monitor farmer's fields and provide recommendations for improvement in quality and quantity of production.  The Extension services model promotes a integrated watershed management strategy for agricultural development.
 AITEC Logistical Hub promotes market linkages for value chain development.  The hub serves facilitate connections, collaboration and partnerships between local and international stakeholders.  The hub will serve to ensure market access to agricultural inputs and technologies while simultaneously promoting post-harvest processing and export of local production.